2019 Innovative Teaching Award Winners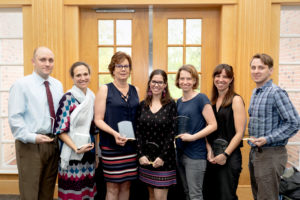 The TLC awarded eight (8) Wake Forest University faculty members with the 2019 Innovative Teaching Award. This award recognizes the effort put forth by faculty who have redesigned their courses or introduced new courses, using new methods or innovative approaches to applying the research on learning to the practice of teaching. The recipients of the award each received $1,000 and were honored at a  reception in April. (Ulrike Wiethaus, Study of Religions, was not present for photo). Images Copyright: Lauren Olinger, Red Cardinal Studio.
Emily Austin, Philosophy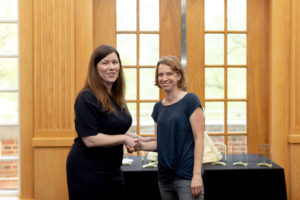 Dr. Austin received her award for substantial revisions she made to her spring 2018 upper-level philosophy course on Plato. One of several goals was to address the challenge of increasing the representation of women and minorities in her syllabi—a challenge facing the discipline of philosophy in general, but especially Ancient Greek philosophy, where we have no remaining texts or even clear evidence of female philosophers from the period. To address this, she introduced a research paper component to the class that required reading contemporary secondary sources. This allowed her to make roughly half of the course readings by women and people of color who write about Plato
Alan Brown, Department of Education
Christina Soriano, Department of Dance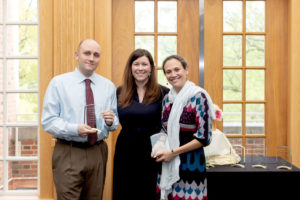 In the fall of 2018, Dr. Brown and Dr. Soriano worked together to teach the first-ever "Movement for Men" course with a focus on education, including a regular field experience in a local elementary school. Students engaged in readings and movement activities that connected poetry, dance, visual imagery, multimodal literacies, physical literacy, brain-based learning, and student-athlete identity. On four occasions throughout the semester, they visited 125 fourth graders at Brunson Elementary School to share what they were learning about the ways movement shapes and illuminates their personal identities, creative processes, and academic experiences.
Andrew Gurstelle, Department of Anthropology
Ulrike Wiethaus, Department for the Study of Religions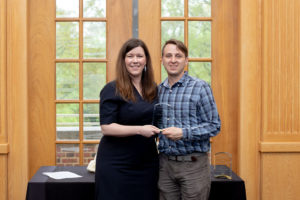 Dr. Gurstelle and Dr. Wiethaus team-taught a series of project-based courses on the Cherokee Trail of Tears over the last few years. Most notable was their 2018 summer course in which they traveled with students on the historical Northern Land Route from North Carolina to Oklahoma. In total, they visited fifteen Trail of Tears memorial sites and met with twenty-seven local community docents over the course of ten days. The place-based learning from this trip was reinforced by four innovative, public history assignments: digital student-authored StoryMaps, mobile apps that offer users an interactive map with information about Trail of Tears sites written by students, a documentary film chronicling the trip; and a museum exhibit and symposium featuring Cherokee culture and history at the Wake Forest University Museum of Anthropology.
Pat Lord, Department of Biology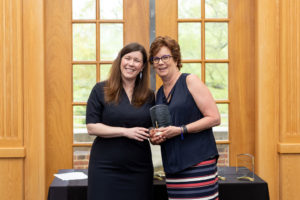 Dr. Lord received the award for the work she did with students in her Fall FYS: "Viral Outbreaks: Coming Soon to a 'Neighborhood' Near You." In this course, she implemented a semester-long project that asked students to design, and ultimately host, a museum exhibit to demonstrate what they had learned from the class about factors that contribute to viral outbreaks and pandemics. Students combined their own materials with materials from the Smithsonian National Museum of Natural History and hosted an exhibit in the lobby of Winston Hall for all of their peers and professors. After learning about flu pandemics in class, the students took it upon themselves to invite Student Health to attend the opening of their exhibit to provide flu vaccines to anyone in attendance. Likewise, students took the game provided by the Smithsonian and completely revised it to create a memory game that punishes mistakes with flu mutations.
Melissa Masicampo, Department of Psychology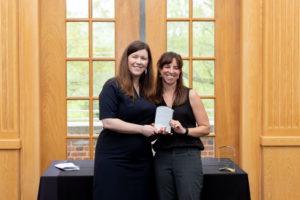 Dr. Masicampo and the students in her fall 2018 Biopsychology course worked together to prevent a zombie infestation on the Wake Forest campus. At least that is what she had them imagine in the newly "gamified" version of her course. More specifically, she asked students to play a zombie apocalypse game where they earned points for fighting zombies with information they learned about both human and zombie brains. To be successful at this game, students needed to understand neural functioning, how it might differ in zombie brains, and what that might mean for defeating them. Throughout the semester, students engaged in "target practice" (i.e., low-stakes, progressively cumulative quizzes), "strategic planning" (weekly reflection exercises), and "battles" (short essays that apply course content to real-world scenarios). Students were also encouraged to utilize spaced retrieval and metacognitive awareness—two strategies known to increase learning in the classroom.
Carmen Perez-Munoz, Department of Spanish & Italian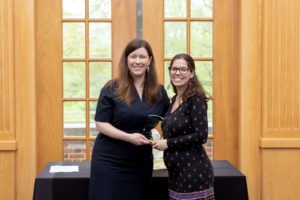 Dr. Perez-Munoz was recognized for her work with Wake Forest students in Spanish 392: Spanish for the Medical Professions. Carmen worked hard to revise this course away from a standard approach, which focuses on the acquisition of technical vocabulary. Instead, her goal was to prepare students to be able to interact with Spanish-speaking patients in linguistically, culturally, and professionally effective ways. She reorganized the course so that it followed the organization of the medical interview and focused on topics like giving bad news, mental health, and nutrition. Moreover, she required her students to volunteer in a clinic twice during the semester, interpreting for Spanish-speaking patients and shadowing doctors. Their final assignment was a role-play activity with standardized patients at the Simulation Center at Wake Downtown. Each student had 20 minutes to perform a full medical interview with a native Spanish speaker who had volunteered to learn a medical case Carmen had prepared for this purpose.
Past Recipients
2018
2017
2016
2015
2014
2013
2012
2011
2010
2009
2008
2007
Earl Smith, Sociology
Angela Hattery, Sociology
2006
Jacquelyn Fetrow, Physics
David John, Computer Science
2005