2018 Innovative Teaching Award Winners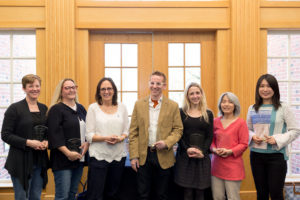 The TLC awarded seven (7) Wake Forest University faculty members with the Innovative Teaching Award for the 2017-2018 academic year. This award recognizes the effort put forth by faculty who have redesigned their courses or introduced new courses, using new methods or innovative approaches to applying the research on learning to the practice of teaching. The recipients of the award each received $1,000 and were honored at a luncheon reception in April. Images Copyright: Lauren Olinger, Red Cardinal Studio.
Hana Brown, Sociology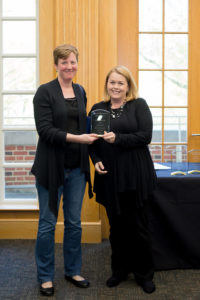 Dr. Brown received this award for her efforts in her Race and Ethnic Relations course, which is an advanced elective course, taught in Spring 2017. This was a discussion-based seminar on race relations and inequalities in the United States. In previous versions of the course, Dr. Brown used a research paper as the final project, but didn't feel this was the best method to meet her goal of making the course collaborative, deliberative, and publicly engaged. So, in 2017, she worked with her students to design a final assignment that better represented these goals. The result was a website called Race in the Forest, designed to address racial inequality in the United States, in higher education, and at Wake Forest. Giving the students agency to design their own final assignment as well as making their work public, yielded deep engagement and forced students to think holistically and collaboratively about a pressing contemporary issue. The public nature of the project also forced students to confront the challenges of talking about race outside the private bounds of the classroom and examine their own subjectivity.
T.H.M. Gellar-Goad and Amy Lather, Classical Languages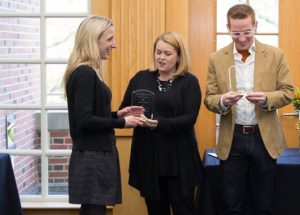 Dr. T.H.M. Gellar-Goad and Dr. Amy Lather collaborated on their Women, Gender, and Sexuality in Antiquity course. This course is a 200-level divisional and was taught in Fall 2017. The course was a new course for the department and also the first team-teaching endeavor for the department. It was designed to explicitly study sexuality in the ancient world and encouraged students to take responsibility for their learning by having them create an imaginary persona of an intersectional feminist professor of Classics, and then role-playing as that professor throughout the semester in class. Students assumed this persona in projects and also in reading and thinking about ancient Greece and Rome. They taught material to their classmates, identified research questions, and developed their scholarly ideas into a conference paper, all in "character" with their scholarly persona at the core of their work. This very hands-on innovation certainly helped Dr. Gellar-Goad and Dr. Lather meet their learning goal for students to learn and practice how to think, read, and write like an intersectional feminist scholar of classical antiquity.
Barbara Lentz, Law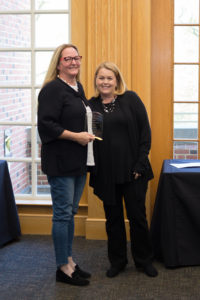 Professor Barbara Lentz was recognized for her Contracts II course, which is a required first year course. It was taught in Spring 2017. Professor Lentz redesigned her Contracts course to include a substantial amount of formative assessment as well as requiring her students to engage in timely issues by both reading about timely contract-related issues and also preparing or revising problematic issues presented in various legal cases. This innovation was a departure from traditional legal instruction which often relies on students to read cases outside of class and then answering a series of questions in-class designed to frame the legal principles from the case. In Professor Lentz's class, students received frequent formative feedback on their learning and also engaged in hands-on study and preparation of legal materials; and through a rigorous assessment process, she was able to demonstrate an improvement in students' final exam scores from previous semesters.
Yasuko Rallings, East Asian Languages & Cultures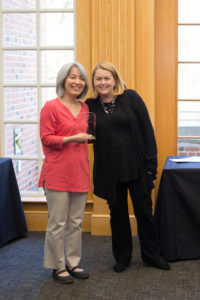 Yasuko Rallings was recognized for her First Year Japanese course, which is a pre-requisite for the Japanese major and minor. Her course was taught in Fall 2017. Ms. Rallings redesigned her introductory Japanese course to include the integration of cultural content, rather than focusing only on students' linguistic development. Specifically, she themed her course around the idea of "College Life", encouraging students to develop linguistic skills and cultural knowledge by discussing their own experiences and exploring the daily life of students in Japan. She increased cultural content by using websites and video clips illustrating life in Japan and also had students engage in virtual conversations via WebEx with Japanese college students in Tokyo. Students engaged in 3 20-minute conversations in English and Japanese throughout the semester. Students also worked on video projects where they demonstrated typical American college life to their counterparts in Tokyo. The result of these innovations was a course that was richer in cultural content and context while still supporting students' linguistic development.
Qiaona Yu, East Asian Languages & Cultures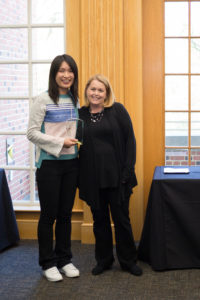 Dr. Qiaona Yu was recognized for her Business Chinese course, which is an elective for Chinese majors and minors. Her course was taught in Fall 2017. Dr. Yu sought to provide cultural context, in addition to linguistic development, for her Business Chinese students. In addition to her students being proficient with conversations in a business context, she also sought to develop their interdisciplinary and intercultural competence using a task-based and community-integrated approach. A thorough literature review led her to develop three task-based modules representing real-life activities appropriate for the Chinese business context: Job Search, Work and Social Life, and International Business and Entrepreneurship. Dr. Yu collaborated with various campus and community partners to develop appropriate learning activities and assessments within each module, such as conducting a thorough job search in Chinese, surveying Chinese students, interacting with a local Chinese restaurant owner, and presenting a business proposal to a multinational corporation entrepreneur (these were just a few of the activities students engaged in). The result was an immersive experience resulting in students not only being able to converse in business context, but also to meaningfully engage as business Chinese professionals through an interdisciplinary and intercultural lens.
FYE Team, Undergraduate College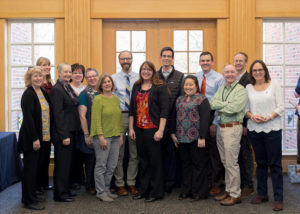 This award recognized a truly collaborative endeavor led by Christy Buchanan out of the Office of the Dean of the College. FYE 101 was a first-year elective course taught in Fall 2017 which aimed to improve first-year students' academic success, wellbeing, and cultural competence.  The curriculum for this course was developed collaboratively by various disciplines in the College as well as various units of the college, such as Campus Life and ODI. This collaboration resulted in a curriculum that drew on expertise directly relevant to the primary outcomes – or pillars – of the course: academic success, wellbeing, and living in community. Each section of the course had two instructors, one from the College and one from either CL or ODI, to maximize contributions from the range of expertise relevant to course goals. The course content and specific pedagogical tools used in FYE 101 were based on research-based practices shown to make a difference in the lives of first-year students, for example learning and practicing deliberative dialogue. The course had very lofty, but important, goals, such as improving students' dialogue skills and increasing their resilience and cultural elasticity. Surveys of FYE 101 students demonstrated significantly greater positive growth on five outcomes: intrinsic motivation for learning, engaged learning, academic determination, diverse citizenship, and an overall "thriving quotient".
Past Recipients
2017
2016
2015
2014
2013
2012
2011
2010
2009
2008
2007
Earl Smith, Sociology
Angela Hattery, Sociology
2006
Jacquelyn Fetrow, Physics
David John, Computer Science
2005