2018 Teaching Innovation Awards
Applications for the Innovative Teaching Award are now being accepted. The Spring 2018 award is intended for courses taught in Fall 2016, Spring 2017, Summer 2017, or Fall 2017. All faculty teaching on the Reynolda and Wake Downtown Campuses are invited to apply.
This award recognizes the effort put forth by faculty who have redesigned their courses or introduced new courses with innovative, research-based approaches to the practice of teaching, using new methods and/or technologies, with an intentional emphasis on how these innovations improved or facilitated student learning. Examples of previous innovation award winners can be found below.
In Spring 2018, the TLC will recognize up to five faculty members with this award. The recipients of the award will receive $1,000. The award is not a reimbursement grant, but rather a monetary prize to recognize faculty achievement. Awards will be presented at a reception and celebration of teaching.
Applications must be submitted by Monday, February 5th, no later than 5:00 p.m. 
Additional information and application instructions
2017 Innovative Teaching Award Winners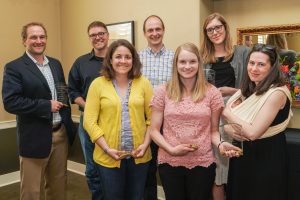 The TLC awarded seven (7) Wake Forest University faculty members with the Innovative Teaching Award for the 2016-2017 academic year. This award recognizes the effort put forth by faculty who have redesigned their courses or introduced new courses, using new methods or innovative approaches to applying the research on learning to the practice of teaching. The recipients of the award each received $1,000 and were honored at a luncheon reception in April. Images Copyright: Mr. Louis Davis.
Dr. Sarah E. Dahill-Brown, Politics & International Affairs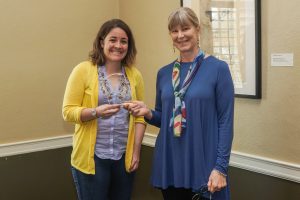 The course POL 213, Special Topics in U.S. Politics, is one Sarah has been developing since her arrival at WFU. While the academic objectives at the center of the course have remained consistent, she has redesigned writing assignments to help students relate the course material to their own experiences and identities, partnering with an organization (Youth in Transition, a non-profit organization that supports young people exiting foster care) so that students might have a sustained, out-of-classroom experience. Sarah wanted to facilitate a consistent, personal connection to the material; increase students' sense of efficacy; and strengthen problem-solving and team-work skills, through a combination of reflective writing assignments, a community engagement project, deliberate inclusion of current events, and autonomy in developing a final project or paper. The project with YIT introduced a specific policy issue early in the semester – foster care – and seemed to ground conversations about inequality in the needs and experiences of people in Winston-Salem.
Ms. Amanda Foster, Z. Smith Reynolds Library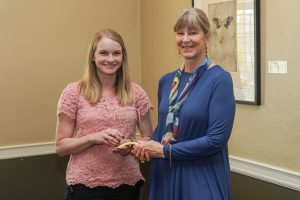 LIB 100, Accessing Information in the 21st Century, was a re-designed version of LIB 100 around an emerging pedagogy in information literacy called Critical Information Literacy. Critical Information Literacy explores how information is used as a structure of power and oppression, and how these power structures can be resisted and changed. Two new assignment sequences were inspired by the desire to include Critical Information Literacy outcomes in the course: 1) The class blog (on Medium.com) was designed to encourage individual critical reflection on issues of power and privilege related to information production, access, and use; 2) The Wikipedia Article Project encouraged students to discover how power, privilege, and oppression operate within Wikipedia, and offered an opportunity to "resist" by creating an article about someone from a group that is underrepresented on Wikipedia (women, people of color, members of the LGBTQ community, etc.).  Fifty-nine thousand people viewed the Wikipedia articles the students made last semester, a fact that both impressed them and impressed upon them the importance of the work they contributed.
 Dr. Amanda Gengler, Sociology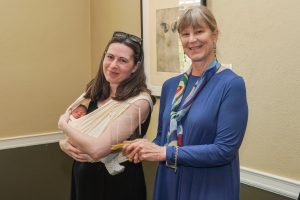 Soc 398, Sociology of Food, was a new course. In conjunction with the Health and Wellbeing concentration. Amanda developed a combination approach of community engagement and critical student writing to reflect on their own position in the food system.  Students participated in the Campus Kitchen program and partnered with the Second Harvest Food Bank, and at the end of the semester students designed a class project to raise awareness about the inequalities in the food system and about Campus Kitchen and its mission. Students began the course with individualistic perspectives about how people could improve their eating habits but in their final project, where they logged everything they ate for a week, they reflected on how their consumption connected them to all the other people in the food system.  Students achieved the goals for the course: to reflect insightfully on their own social position in the community food hierarchies, to write clearly and eloquently about complex social issues, and to use compelling data to support an analytic argument.
Dr. Scott Geyer, Chemistry
Physical Chemistry I Lab, CHM 341L, is an upper level laboratory courses in chemistry which presents a critical opportunity to directly engage majors in an interactive, small class atmosphere. Scott overhauled the course to provide a pathway for students to develop as scientific writers by using class time to teach writing, providing examples, and most importantly incorporating review and revision as a central part of the writing process.  In addition, using resources provided as part of a Summer Course (Re)Design grant, Scott developed online videos and quizzes to 'flip' the pre‐lab lecture content, both improving student preparation and repurposing the lecture time for one‐on‐one review of student writing. Guided by his participation in the Writing Associates Seminar, Scott also implemented structured, multi‐week assignments incorporating review and revision that are known to improve student- learning outcomes in writing. Scott believes that due to this course, these students will excel in this aspect of their future careers.
Dr. Stephanie Koscak, History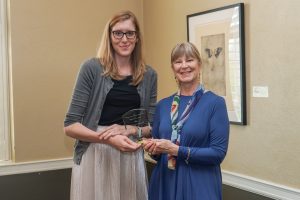 HST 325: "English Kings, Queens, and Spectacle", is an elective course for History majors and minors in the field of European and/or Pre-Modern history.  While adopting a broad approach to examine the wide variety of media forms through which politics took place (such as paintings, performances, engravings, books, and newspapers), one of the primary aims of this class is to explore the evolving relationship between the crown and the public sphere accompanying the invention and spread of print.  The main innovation was twofold: first, to emphasize the role of print culture in early modern England and to teach students the skills of close critical analysis of original historical texts, Stephanie worked closely with Megan Mulder (Special Collections, Z. Smith Reynolds Library) so that each student researched a single archival object across the entire semester. Second, students produced a bibliographic and biographical history of their source that was published as an edited collection through Library Partners Press. Students developed highly original and perceptive arguments about early modern readers, about the political differences between multiple editions of single texts, and about how print culture affected the representation of specific rulers and authors.
Dr. Michael Sloan, Classical Languages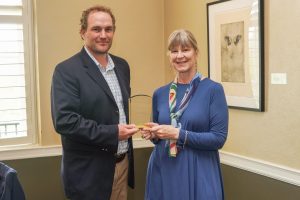 Classical Mythology 261 is an old offering at Wake Forest. Michael introduced numerous changes to the course, but the most significant was the "Socratic" initiative, which flipped the classroom in a controlled environment, making it more student-centered and using active learning techniques. The first thing Michael changed was the required text(s): instead of requiring one textbook with a synthesis of historical and mythological information, he instead required seminal primary sources that constituted a standard canon of "myths" in translation, then wrote his own historical introductions for each author/text and posted these on Sakai. As the instructor he took on the persona of Socrates, questioning the students about the content and implications of the readings. Finally, he integrated the syllabus and his in-class verbal assessments with Wilson's Taxonomies of the Cognitive Domain. Michael added the VALUE rubrics for Critical Thinking, Written Communication and Oral Communication to guide his students and himself in the assessment process. The success of this innovation was demonstrated in the constant participation, involvement, and enthusiastic atmosphere in the class, as well as by the quality of student responses and questions.
Dr. Eric Stottlemyer, English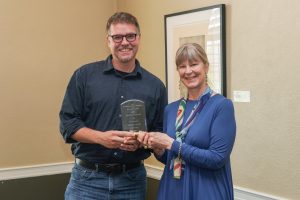 ENV 306 was a new course Eric developed as a way to test a few pedagogical hypotheses that he had been developing over the past several years. In the spring of 2014, he had a conversation about teaching with Naropa University's Dr. Richard Brown, who suggested that, contrary to conventional university models of teaching, a transformative educational experience depends upon the integration of three components: intellectual, physical, and emotional engagement. Intrigued, Eric wanted to test all of these ideas in the classroom, and to do so he devised a course evenly divided between classroom instruction, experiential learning, and guided reflection (intellectual, physical, and emotional components). The students and Eric met in the classroom on campus for the first week and a half of the summer course, then spent two and a half weeks conducting field work in the Alaskan wilderness, and concluded in the classroom again for intensive written reflection. Eric wanted to present theories of sustainability and GCC in ways that would allow students to create some emotional distance from the topic, to perceive the problems clearly and lucidly, and to find acceptance and peace in the reality of our contemporary lives. By the end of the course, they all felt empowered to create change, however small, in the worlds that surround them.
Past Recipients
2017
2016
2015
2014
2013
2012
2011
2010
2009
2008
2007
Earl Smith, Sociology
Angela Hattery, Sociology
2006
Jacquelyn Fetrow, Physics
David John, Computer Science
2005