All Postdocs and Graduate Teaching Assistants at Wake Forest University are eligible to attend any of our workshops (see the list on the right). If you would like a more formalized course of professional development, we encourage you to consider our College Teaching Preparation Program
College Teaching Preparation Program
The Teaching and Learning Collaborative invites Postdocs and Graduate Students to enroll in our College Teaching Preparation program. Being a new instructor is both an opportunity and a challenge. Participating in this program will prepare you to meet teaching-related challenges and provide you with the opportunity to work with professional educators to learn and practice new teaching skills.
For more information about the program, download our College Teaching Preparation Information and Checklist and visit our model ePortfolio page for more information on setting up your own ePortfolio (a major requirement to complete the program).

You can enroll in the program here. If you have any questions, please email Anita McCauley at mccaulak@nullwfu.edu.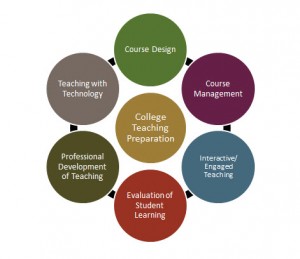 Teaching Boot Camp for Graduate Students
Each fall, the TLC offers a "boot camp" style teaching series for new graduate students designed to help prepare them to teach. The event lasts for 1.5 days. Participants will take part in a variety of activities, such as workshops, a panel session, and microteaching.
For Fall 2018, the Boot Camp was held on Tuesday, August 21 from 9:00-5:30 and Wednesday, August 22 from 9:00-12:30.
View the complete Fall 2018 agenda and session materials here